iOS or Android – Which Is Better In 2022? Comparison Of Both Systems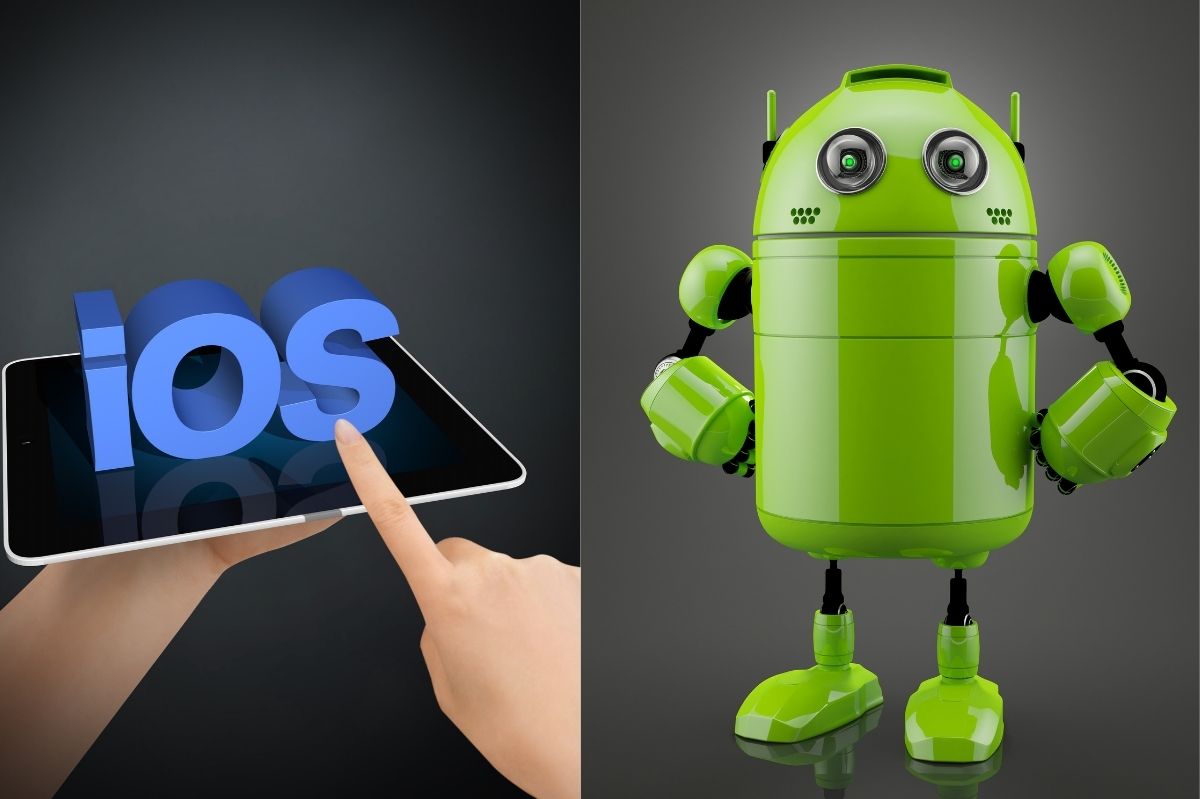 iOS or Android – which is better? The answer to this question requires comparing both systems and an analysis of the most important trends prevailing in 2022. Discover the seven advantages and disadvantages of software with the logo of a bitten apple and a green robot! Before deciding on a piece of specific equipment, it is worth carefully analyzing both solutions and choosing the option best suited to our personal preferences.
In this article, you will learn:
What seven elements to consider when choosing a specific operating system?
What is better secured? – iOS or Android devices?
Which device is easier to pair? – iOS or Android?
What works better for video games? – iOS or Android?
What are the advantages and disadvantages of Android and iOS?
What is better? Android or iOS?
According to Wikipedia, the iOS operating system was released on June 29, 2007, and the Android software was released on September 23, 2008 – almost a decade and a half ago! Since then, there has been a fierce fight between Apple users and the famous robot. But what is the ultimate winner of this battle – iOS or Android? In today's article, we will carefully compare both systems and present their advantages and disadvantages and the most important information to help you choose specific equipment in 2022. Let's start!
iOS or Android – what seven elements to pay attention to when choosing an operating system?
Choosing an operating system involves a slightly different operation and the need to work on completely different devices. In the case of iOS, we are forced to use the iPhone, while Android offers us a variety of equipment from the most popular manufacturers, including Samsung, Huawei and Xiaomi.
iOS or Android – device prices
The prices of new Apple devices range from 2,000 to 4,000 PLN. This is quite a large investment compared to Android devices, where a smartphone of satisfactory quality that meets the requirements of most users can be obtained for as little as PLN 1300-1500.
iOS or Android – reliability
Android or iOS – which equipment will not let us down? The answer is it depends, among other things the parameters of a given device. However, let's take a closer look at any iPhone and Samsung for a price of about PLN 2,500. We will not notice any differences in performance because their specification allows for comfortable use for a very long time.
Problems begin when using maximum memory, rooting hardware, or even installing unofficial programs from outside the App Store and Google Play. Our smartphones can then stutter, turn on slower or simply work much worse.
What is the answer to the question regarding the reliability of Android and iOS? Ambiguous because the opinions are divided (similar to the McDonald vs KFC battle). If, on the other hand, we are talking about uptime, experts from the website. This is due to the fact that Apple hardware is much less susceptible to viruses and, consequently, will run smoothly for much longer, even for people who cannot use smartphones safely.
iOS or Android – operating system
The third and most important element, i.e. the operating system, the choice of which depends only on our individual preferences.
Some people cannot get used to the specificity of smartphones with iOS software due to the lack of an undo arrow, the famous "circle" that minimizes applications or even a "square" showing all running programs.
Android users, on the other hand, cannot imagine everyday functioning in the world of Apple devices – they justify it with the lack of intuitive solutions, not very interesting interface or difficult synchronization with external equipment (e.g. transferring files from a computer to an iPhone).
iOS or Android – smooth work
Regardless of the preferences and opinions about Apple phones – they can not be accused of slow action. The new iOS smartphones, regardless of the price, are perfectly optimized and efficient like flagship Android devices. All this is due to the excellent specification and individually developed system protected against viruses.
Good to know: An iPhone with 8 GB of RAM is as efficient as an Android device with 12 GB of RAM. This is due to the perfectly optimized iOS system.
iOS or Android – popularity
The popularity of equipment with iOS and Android software is influenced by three main factors – the price, availability and intuitiveness of the solutions offered. In Poland, the most frequently purchased smartphones are devices with a green robot – it is estimated that it is as much as 90% of phones sold!
In other European countries, the proportions were a bit more even. For example – in the USA and Japan, devices with the iOS system are chosen by approx. 70% of consumers, while in global terms, the first place is still Android (85% of smartphone users).
iOS or Android – application availability
Application availability? Android is an undisputed leader in this ranking because it is distinguished by almost 3 million programs available on Google Play. To the surprise of Apple's opponents – the iOS system does not stand out as much as it might seem because over 2 million programs are at your disposal immediately.
However, it is worth mentioning the exclusive applications that Apple can boast of (e.g. Safari or FaceTime). The App Store is also a collection of paid programs that can be installed on Android for free – for example, the famous Pou game for PLN 8.99 (data for 2021).
iOS or Android – updates
Android updates typically take place for the first three years after release. Later we witness a technological lottery. One flagship will get an update, and the other will not. And so on (unless we consider Google Pixel phones, but their specification sometimes leaves a lot to be desired). IOS software fares much better in this competition because even owners of several-year-old iPhones get the opportunity to update to the latest version.
Currently, the latest versions of both platforms are iOS 15, which debuted with iPhone 13 in September 2022, and Android 12, which began appearing on the first smartphones in December 2022.
Also Read : OPPO Reno8 Becomes The First Phone With Snapdragon 7 Gen 1? The Chinese Go Crazy.
Securing iOS and Android devices – which is better?
Above, we have discussed the seven most important elements that you should pay attention to when choosing a specific operating system. In this paragraph, we will touch on the topic of securing iOS and Android devices – extremely important in 2021 due to thousands of online scammers and those who operate in the real world.
Android security
Android is distinguished by a very open system, susceptible to various modifications. Therefore, breaking the security of the popular robot is not too problematic. Anyone who has at least a minimum knowledge of smartphones should easily (or even with the help of a YouTube video) bypass most Android security.
iOS Security
IOS security is shrouded in dozens of myths and legends. They are extremely effective, but when we forget the password to our Apple ID – very problematic.
Hacking iPhone security requires specialized software and advanced knowledge of the system. It is possible but often unprofitable – that's why many stolen smartphones with the bitten apple logo appear on Allegro at very attractive prices.
It is also worth mentioning the latest Apple smartphones and the current global situation caused by the coronavirus. If we want to unlock the phone in the store with a mask on, we have to enter the PIN each time because Face ID requires showing the entire face.
Android or iOS Security – Which is Better?
The undisputed winner of this ranking is iOS. It can be unlocked in certain ways without knowing the password, although it is a very problematic task that typical thieves cannot cope with. This is evidenced by dozens of auctions with stolen iPhones on Allegro, OLX or other popular auction portals.
Android vs iOS – Which device is easier to pair?
Which device is easier to pair – iOS or Android? The answer to this question does not require excessive precision because the winner of this competition is all the devices of the company co-owned by Steve Jobs.
This is due to the presence of dedicated equipment only for iPhones, iPods and Apple computers and laptops (e.g. Apple Watch, Air Pods). Thanks to this, the purchased gadgets can be connected in a few seconds and used every day without the possibility of accidental disconnection.
On Android, however, it can be different because the system can spontaneously forget some devices, disconnect them regularly, or even worse, not see them, especially when dealing with equipment from different manufacturers.
Android vs iOS – what works better for video games?
You can be a fan of iOS and Android. Still, regardless of the hardware you have, at this point, you have to admit a big plus for Apple producers who attract even the largest producers of smartphone games with the optimization of the system.
This is due to a simple fact – developers want to test their application on a variety of models with slightly different parameters (preferably at 60 frames per second). Apple enables all this, starting with the iPhone X, but with Android, it is different. Well, the Huawei P30 Pro allows you to play at 60 FPS, while the younger Huawei Mate 20 Pro limits us to 30 FPS in the Fornite game.
Android or iOS? We compare both systems! Advantages and disadvantages
In today's article, we compared the two most popular operating systems used by mobile device users around the world. In order to comprehensively close this topic, it is also worth comparing the advantages and disadvantages of individual software with attention to the necessary details. So what to choose? – iOS or Android?
Android software – advantages:
full integration with all Google services
a choice of various devices (e.g. Samsung, Huawei, Xiaomi)
well-stocked google play store
the ability to easily modify the software
more free apps
Android software – disadvantages:
older models cannot be updated
high risk of hacker attacks due to software vulnerabilities
developer-made overlays to slow down devices
IOS software – advantages:
seamless integration with Apple devices (e.g. Air Pods)
simple interface
no junk apps
more professional (paid) applications (e.g. for photo editing)
regular software updates (even on older iPhones)
IOS software – disadvantages:
the high price of devices (similar Android phones are several hundred zlotys cheaper)
a relatively small selection of equipment (compared to Android)
less free apps on the App Store
iOS or Android – which is better? Summary
The question "Which is better – iOS or Android?" cannot be answered unequivocally since the final decision depends on the buyer's individual preferences. When choosing, however, it is worth considering several aspects, including whether we care about increased security or even the possibility of introducing personal changes in the system through the so-called rooting Android.
To sum up, if we care about reliability, the trouble-free pairing of devices (e.g. Apple Watch) and regular updates regardless of the choice of a specific model – we should choose the iPhone. If you want full integration with all Google services, easier software modification, and use of free and advanced applications – it is worth choosing Android.
Also Read : Special Edition Realme 9 Pro + Free Fire. A New Version Of The Same Model