Getting To Know The Tools – monday.com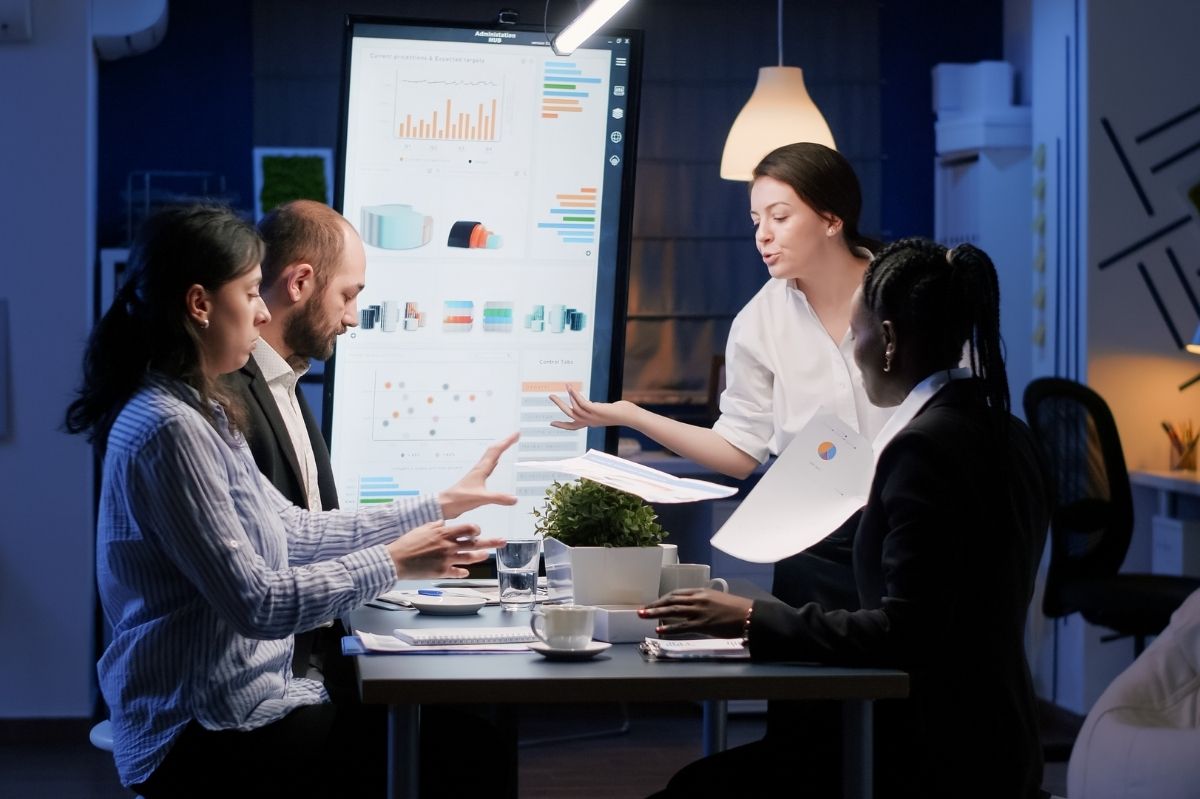 Monday.com is definitely my new favorite for big projects! I met him on the last few projects with various clients. For a long time, no tool has delighted me like this. My action is that if the client already uses any tools, we try to use them as long as they are not completely archaic.
So I used many, very different tools, but none of them interested me as much as Monday for a long time. So this approach requires me to be familiar with various project management applications. I even think that even if you hate Mondays, you will love Monday.
What is monday.com?
It is a tool for managing almost everything in the organization. We can use it to manage projects, teams, and processes. It is great to support teamwork, communication, and work time tracking. It is suitable both for small, several-person teams as well as for corporations with complex structures. It is great to support IT, HR, and sales processes. It is also perfect for managing software development. Sounds too good, right?
You probably wonder why monday.com, when there are many tools of this type on the market? First of all, thanks to the simplicity of starting work, versatility, but also the enormity of possibilities – automation, reporting, and integration. And we also get ready-made templates that we can use or adapt to our needs.
Most of the tools I have come across so far required at least a short introduction to get started. With monday.com, it was just the opposite. When I first got access, I was able to understand the basic assumptions of the program myself. It is thanks to intuitiveness and simplicity.
Monday.com is primarily:
Project management
Process management
Support for teamwork, remote work
Individual time management
According to the manufacturer's website, the application supports:
Remote work,
Project management,
Software development,
HR processes,
Marketing,
Media and production,
IT,
And sales.
Key Features of monday.com
Below I have listed most of the functions that this application offers. Their availability is limited depending on the plan we choose. Depending on the plan, we also have different sizes of available space and activity logging time. In order not to make blind decisions, we can try the first three plans for free. Each organization will certainly adapt Monday to its needs. It is also worth mentioning that the manufacturer provides very good, fast and helpful support.
Basic functions
The application is available via a browser and in versions for Android and iOS.
You can share views with people who don't have a Monday account.
Visitors can be invited to the boards (this way, you can communicate with clients instead of exchanging e-mails).
Monday sends e-mail notifications to users, and you can also set up notifications on your computer.
Project and teamwork management
We can adapt project management to the form that is most convenient for us. The concept of work at Monday is a division into Boards whose layout and appearance can be adapted to your needs.
Each table can be presented in different ways thanks to the following views:
Kanban
to-do list
Gantt
Timeline view
Calendar view
Team workload
Diagrams
Forms (we can create a form integrated with our board and share it with various people, even those who do not have an account on Monday)
When creating an array, we have more than 20 types of columns at our disposal – from the basic ones (status, date, person, text field, number, or currency) to, e.g., those that allow you to track working time or use formulas and dependencies.
In addition to boards, we also have Dashboards that allow you to collect and analyze data from various boards. They can be used for reporting and data collection at the level of the entire organization or individual use by an individual. Dashboards are organized using the available widgets.
Some examples are below:
Progress of selected projects
Diagrams
Numerical summaries
Team workload in various projects
Keep track of your time with different arrays
Calendar
Gantt
Tasks for the week
remote work
In addition to planning work and assigning tasks with the help of Monday, we can transfer all communication of our team to this application. Thanks to the inviting guests' function, we can do the same with our clients.
Working together
Embedded documents – the ability to work together on documents from the Monday level
Integration with Zoom
Timeline view to manage team workload.
Calendar view
Maps
Automations
Monday allows you to automate processes and workflows. In a simple, not requiring coding, we can set automatic reactions to certain events (e.g., reaction to status changes, adding new tasks to arrays or values ​​in individual fields). In practice, this means that we can minimize the workload in management and reduce the risk of errors. For example, we can automatically assign different users to a task depending on the status or send a notification that a deadline is approaching.
We can automate, first of all:
Notifications (We may set conditions under which certain users should be notified).
Status changes (what is supposed to happen when the status changes or when it doesn't change at the right moment)
Repetitive tasks (automatic creation of tasks or notifications, e.g., weekly, monthly, etc.)
Dates (automatic response (e.g., notification) to a specific date, its exceedance, or an approaching deadline)
Integrations
In addition to automation, we can also integrate Monday with many commonly used tools. Thanks to this, we will be able to use them in conjunction with Monday. There are currently nearly 50 different integration options available, including:
Zoom
Dropbox
Trello
Slack
Outlook
Jira
Microsoft Teams
Who is monday.com for
Monday will prove itself in projects where multi-dimensional management is important. If the usual list of tasks suffices for you, probably Monday, despite all its advantages, will be a scarecrow cannon for you.
I sincerely recommend Monday wherever we have to supervise many different aspects of the project and tasks or manage processes. In many organizations, Monday can handle project management and HR, sales, and marketing processes. Thanks to this, instead of CRM, a project management application, messenger, we can have one tool that can handle everything.
Thanks to management at the level of boards, dashboards, and workspaces, we can organize all open projects in one place. In addition, we can transfer important communication here, also with the client.
Automations and integrations themselves are a great help in complex projects and teams. They allow you to control the chaos and improve your work. Additionally, they reduce the number of errors. Again, however, it is worth remembering that their configuration also takes time, just like forming new habits in a team.
Therefore, although it is really sensational, I think that everyone will not need it. It would be a pity to use it as a regular to-do list with so many options at your disposal.
How much is monday.com
Monday is definitely worth the money, although it is not a cheap solution. There are four plans available: Basic, Standard, Pro, and Enterprise. Depending on the plan, access to some features is limited, and the price varies per user/month.
In the cheapest option – Basic up to 3 users, the user fee is $ 8 per month (billed annually). 
Also Read : In Project Management, there is "QUALITY and QUANTITY" – Check and Analyze