What Is An E-Packet? : Delivery And Tracking All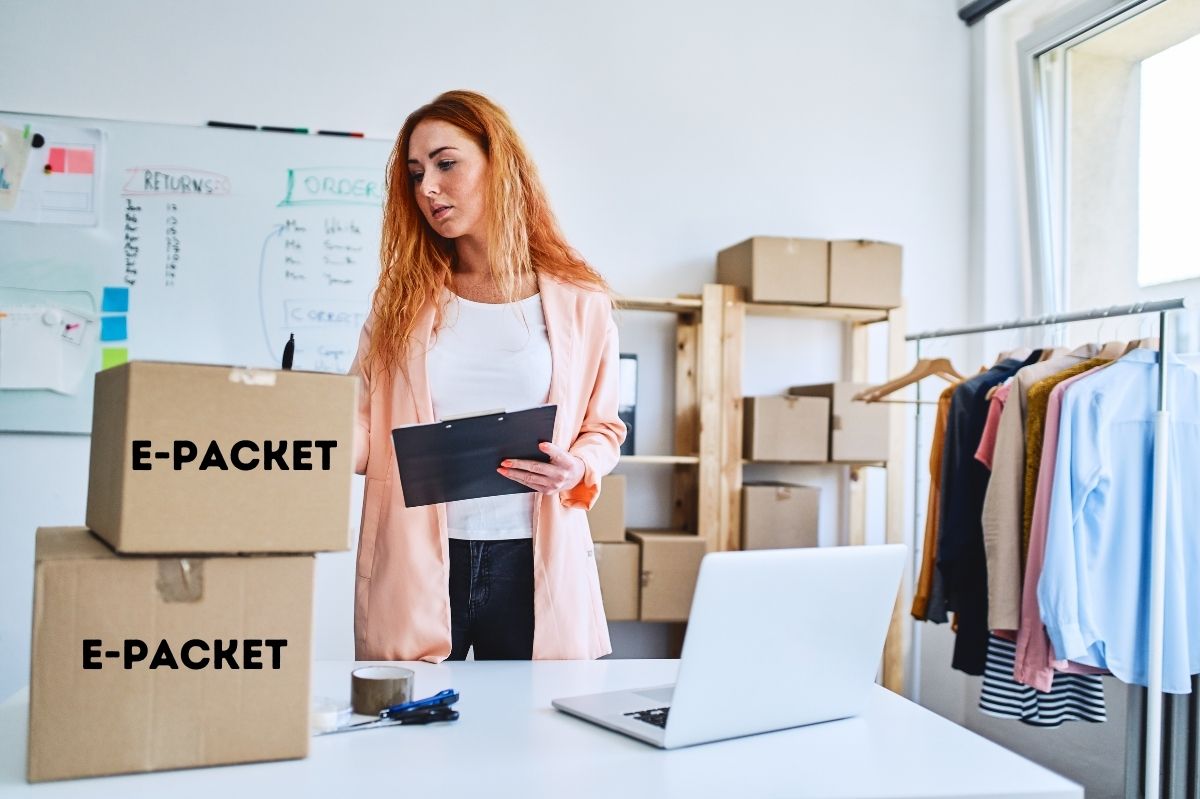 As businesses worldwide advance online, more and more customers are now buying products from international shops.
As an e-commerce business owner, it's essential to stay up to date on the competitive environment. Among them, "delivery" is one of the business elements that is constantly changing.
Now, thanks to "e-packet," it has become straightforward to buy products from China. To maintain a competitive advantage over Chinese-based merchants, we need to understand what "e-packets" are and why they have emerged as a popular shipping method in China and Hong Kong.
The following describes how e-packets work and what their tracking service includes. And finally, we will answer "Frequently Asked Questions" about e-packets. 
What Is An E-Packet?
In the olden days, "China EMS" was the only option for delivering consumer products overseas at an affordable price. However, China EMS took customers more than a month to receive their parcels, and other options with short delivery times were too expensive to deliver cheap items.
In 2011, the United States Postal Service (USPS) contracted with the postal service and eBay China, Hong Kong. The introduction of the "e packets" of a new delivery service officially announced was. 
As a result, it has become possible to receive first-class mail service with delivery confirmation by USPS from China and Hong Kong. Before introducing "e-packets," packages could only be sent by sea from China to the United States. Therefore, it took a long time to deliver the goods.
What Is E-Packet Delivery?
As the name "e" packet suggests, the service is designed for e-commerce and allows consumers to receive products purchased from online stores and marketplaces in China and Hong Kong faster and more affordably. It made it possible.
You may have seen Chinese-based merchants offering e-packets as a shipping option on eBay, AliExpress, and Oberlo. Any merchant in China or Hong Kong can provide an e-packet if the package meets the delivery requirements. The USPS has its requirements for packages and parcels delivered by e-packet. The maximum length of the box is 24 inches (60 cm), and the total length, width, and thickness are 36 inches (90 cm) or less.
In addition, to be considered an "e-packet," the package must weigh no more than 4.4 pounds (2 kg), and the price of the item to be delivered must be no more than $ 400. 
In addition, packages will only be shipped from China or Hong Kong to 44 countries eligible for e-packet.
What Is E-Packet Tracking?
"E-Packet Tracking" is a tracking function that allows you to monitor your parcel easily and find out where it is located on official websites such as EMS, USPS, and China Post at no additional charge. In addition, undelivered packages will be returned free of charge, so merchants will not have to worry about refunds to customers who did not receive the item.
There are advantages to having customers track e-packets after placing an order. Customers can self-service to locate the package and know when it will arrive. Therefore, on the luggage of undelivered customers is to improve the customer experience inquiries to the support is reduced.
What Is E-Packet Delivery?
Originally, e-packet delivery began as a fast and affordable delivery solution for merchants in China and Hong Kong who deliver packages to the United States. Over the years, it has now spread to more than 40 countries, including Canada and Australia.
A local logistics company does E-packet delivery to your final destination. "Local logistics companies operate logistics businesses in countries where packages are finally delivered, such as USPS, Canada Post, Royal Mail and Post Office Limited (UK), and Japan Post. It means that. Each of these local logistics companies has its delivery process, fees, and packaging conditions.
Who Delivers E-Packets?
There are several parties responsible for e-packet delivery. First, a logistics company in China or Hong Kong will deliver the package to the border. From there, it will be sent to its final destination by an international logistics company.
Upon entering your final destination, your parcel will be picked up by a local logistics company in that country, but which company you will be will depend on your region and delivery method. It is the responsibility of the local logistics company to deliver to the destination specified by the customer.
Will E-Packets Be Delivered To The Front Door?
Strictly speaking, e-packet delivery covers up to customs and does not guarantee delivery by a local logistics company. Many logistics companies offer a delivery service to the front door, but that service may not be available depending on the destination address.
Which Countries Can Use E-Packets?
As of April 2021, the following 44 countries support "e-packets":
Australia
Austria
Belgium
Brazil
Canada
Croatia
Denmark
Estonia
Finland
France
Germany
Gibraltar
England
Greece
Hong Kong
Hungary
Ireland
Israel
Italy
Japan
Latvia
Lithuania
Luxembourg
Malaysia
Malta
Mexico
Netherlands
new Zealand
Norway
Poland
Portugal
Russia
Saudi Arabia
Singapore
Spain
Korea
Sweden
Switzerland
sea ​​bream
Turkey
Ukraine
United Kingdom
United States of America
Vietnam
Also Read : How Can Brand Owners Unlock The Enthusiasm Of Post-90s/00 Audiences?
How Long Does It Take To Deliver An E-Packet From China To The United States?
It takes an average of 10 to 20 days from the date of shipment to receive the package for the United States. It seems that it will take about the same or a little longer in other countries. 
Approximately half of the delivery time is used for delivery to the destination country. The other half is allocated to be transferred to the destination logistics facility or delivered to the customer's hand.
Delivery times depend on the destination of the package, customs, holidays, and other delays. However, e-packets are fairly consistent in average delivery time compared to other cheap shipping options in China and Hong Kong.
Considering the amount of cargo delivered in large quantities every day and the number of places to go through, we can see that the delivery speed of e-packets is quite fast.
Fortunately, all of these delivery processes can be easily monitored using the e-packet tracking service. This gives customers a sense of security even when the package is being delivered. 
How To Track E-Packets
There are several ways to track e-packets in transit.
The first is tracking on the official website. Which website you should use, depends on where your package is in transit. If the package is still in China, you will use the EMS website, and if it is in the United States, you will use the USPS site.
If you are having trouble finding tracking information on the official website, you can instead use a third-party tracking service such as:
Package Mapping
AfterShip
PackageTrackr
17TRACK
If you purchased the item on a website such as AliExpress, you would see the package's shipping status at the same time when you browse the order details.
How Do I Know That My Package Is An E-Packet?
If you ordered your item via AliExpress dropshipping, click on "View Detail" under "Orders." The shipping method will be displayed under "International Shipping Company" in "Logistics Information" there. If an e-packet was used to deliver the package, it should be labeled "e-packet" along with the tracking number.
If you are not using AliExpress, you can determine which shipping method your package was sent by looking at the tracking number. Tracking numbers for e-packets usually start with the letter "L." If you do not have an e-packet tracking number, it was likely sent by a different delivery method.
Do Customers Have To Pay Customs Duties And Other Taxes With E-Packets?
Since e-packets go through traditional customs clearance, customers may have to pay customs duties after the goods arrive. We recommend that you check local laws to find out if you are obliged to pay customs duties to import goods and, if so, what goods are subject to customs duties. You may want to ask the merchant who ships the item if there is a customs duty on receiving the package. Merchants who have experience shipping to eligible countries may be familiar with tariffs.
How Do E-Packets Work On AliExpress?
"E-packet delivery" will be one of the critical deciding factors in deciding which products to sell from AliExpress for drop shipping. e-packets allow customers to receive purchased items within a reasonable period and allow them to track packages in transit.
E-packets are also the most reliable option for both merchants and customers. Other shipping options in China and Hong Kong are likely to be unreliable unless they are expensive.
In addition, e-packets, because it is generally provided as a free or low-cost delivery option, from AliExpress and Oberlo dropshipping as a shop owner to the customer will be able to provide free delivery service. 
What Are The Ultimate Benefits Of E-Packet Services?
When delivering within a region, the competitive advantage always depends on the speed of delivery. Some customers may run out of numbness during a delivery period that takes weeks. Your customers are indeed the same.
Competition is constantly changing, so it's essential to understand why your customers choose you and figure out what they're looking for. Once you know that, you will be able to serve your customers better than your competitors.
Also Read : Ping Pong Table: Robots Are No Longer Just Movie Characters